Monday 10 July
NOON:
This is cool. I've just come from a meeting with digital agency, RAPP, where I was told about a project which would be right up our street - it's to create a 360-degree experience of an event which is being held for the launch of Destiny 2 Beta. Virgin Media is creating an underground world where hardcore fans of the game will be invited in to take part in the launch and most importantly - from their point of view - get their hands on playing the game itself. The only problem is that the event is happening on Sunday, and this is already Monday afternoon. That does not give us much time…. But I reckon if we can get some early access Holoscribe would be a brilliant tool to put this project together. We're not quite finished on building the tool yet, but even with what we've got we could put together something pretty cool. Time to tell the team.
6PM:
I emailed RAPP this afternoon to ask about early access to the venue. My thinking was that if we could go in on Wednesday or Thursday we could plan a route around the experience, get some dummy shots, and work out what needed to go where. No such luck! The whole thing is only being built at the weekend, ready to admit the gamers on Monday morning. The soonest we can get in is Sunday evening, 7pm, and the whole project needs to go live at 11am the next morning. For now, we'll have to work off the floor plan: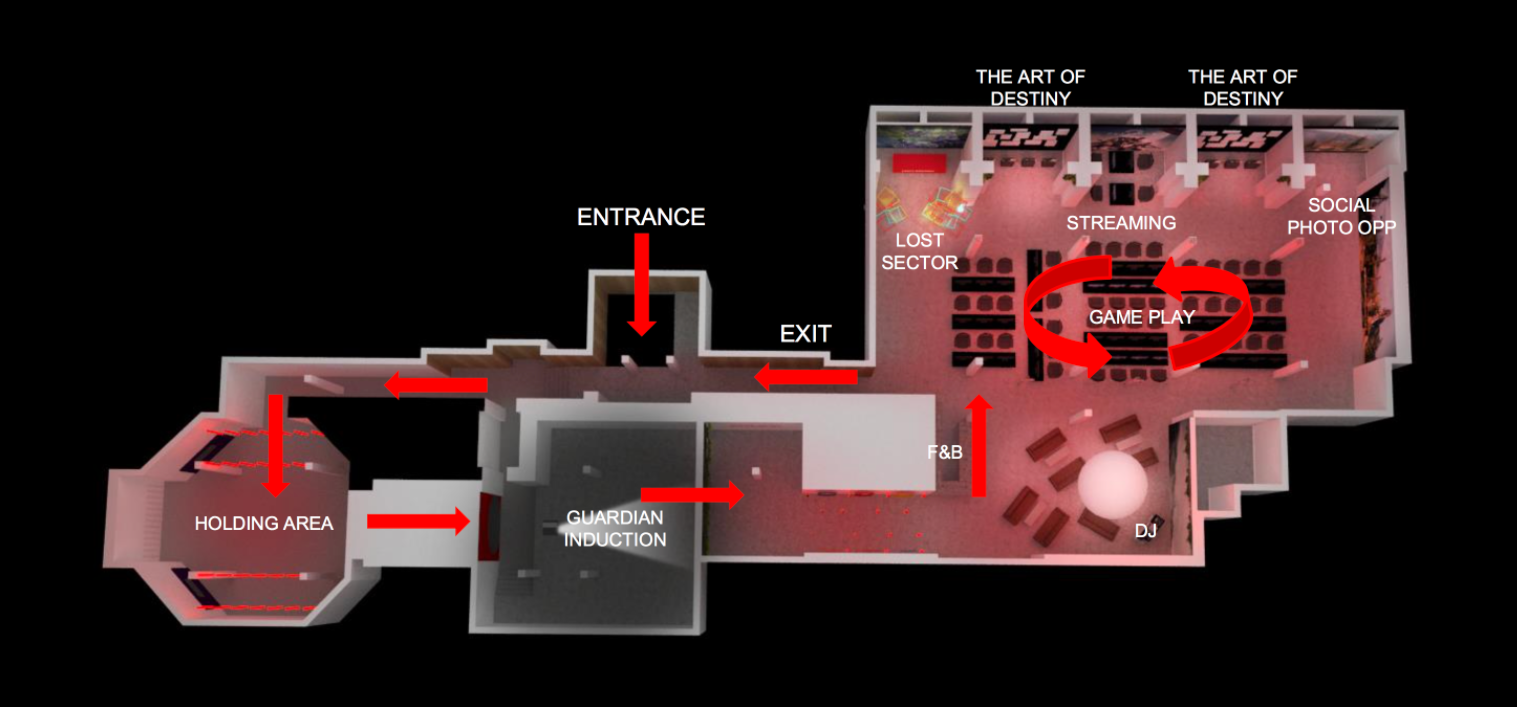 Plan of Virgin Media's underground world - at this stage, all we had to go on
Tuesday 11 July
I've been having a chat with Marcus (co-founder and CTO) - he's rightly got me thinking about what we can achieve given the very short time. I think we're going to be OK, but we need to focus on what can physically and technically be done. Of course the client will want the most ambitious and creative treatment, as would we, but we need to keep at the front of our mind what is practical. And not just that, but what is the highest quality experience we can deliver. We know we can turn content around quickly - I've thrown plenty of 360 content at my team before and they've built things from it, but we've yet to do a project with this complexity or pressure before.
I don't know about the rest of the team, but I quite like the challenge - this is what we're here to prove, right? That we're building a tool where you can create these experiences in minutes? It would have been easy to say to the client that we could take some pictures and come back in a couple of weeks after we'd processed and built them. But that's not what we're about - that would make us the same as any other agency. Having to do it quickly will validate what we are offering, and will highlight that there is a need for what we're doing - that people want to build these experiences and turn them around quickly. Actually even though there are now lots of people working in 360, AR and VR, I'm not sure there is anyone else around at the moment who could do what we are planning here. This could be our make or break.
We still don't know if the project is going ahead, but we've been thinking about how we'll build a route through the scenes, how we'll show the hotspots and what extra interactive content there might be. In a way the project might feel as if it's being pulled in two directions - on the one hand the creative vision will want to be as full-on as possible, and on the other we know that shooting too high and failing to deliver anything is not an option. The content really will be king - the technical implementation of the project makes a difference of course, but it's the content which really brings meaning for the user. I am conscious though that every hour we don't get started, the more that risk's going out of balance.
Thursday 13 July
NOON:
On Monday I said we needed a decision about whether we're going ahead with the project before close of business on Tuesday. By the middle of Wednesday, the creative ideas hadn't been pitched to the client. So at about mid-morning, I sent an email asking if there was any news. After about 10 minutes I got a reply saying: "We're on." I'm not sure if it was the adrenaline from excitement or relief, but the news gave me goosebumps.
Straightaway I wrote to the team - CTO Marcus, with our designer, developers and the rest of the team based in different parts of the globe- to say the project was on, and that at this time in four days it would all have been completed and delivered. We're talking all the time on Slack anyway, but we got on a call to plan what each part of the operation needed to do. Though we'd never planned our team to be in three different parts of the world, actually for this project it is going to be a real advantage - we can work around the clock. I let them all know on the call that I'd allowed budget for Red Bull and pizza for us to pull off a weekend shift. We all know this is going to be a lot of work but as it will be our first project to go live, everyone seems keen to do what's required.
3PM:
We've been asked if we could provide the 360 degree photography as well. Though we've worked a lot with 360 stills and video, we haven't actually yet produced our own images to work with - not, at least, for a client on a live project. My response was: "…..[slight pause….] Yes. I'm sure we can find a way." To be honest it hadn't really occurred to me that there wouldn't be a team which was ready in place to take the 360 images. Doing this well is not an insignificant task - particularly as we'll only get one chance to capture what we need - and it's not the sort of thing you can just point an iPhone at. So I started speaking to all my contacts, going through freelance photographers, video producers, agencies - following up suggestions that people gave us, and checking every website offering the service. But what we're asking was a very specific thing in a very short timeframe. Basically I was asking them on a Thursday afternoon if they could do a live shoot on Sunday evening and deliver the content to us that night, leaving very little time, if any, for post-production. Most were not available, and many could not deliver what we wanted in the time available anyway. But luckily we've previously worked on a couple of projects with Harpoon Productions, a young digital content agency, and got them on board. They had the appetite for a challenge and within a couple of hours had got all the kit they needed arranged, and were ready to gear up for filming on Sunday night.
Friday 14 July
One really important thing about working this task - and what's helpful about Harpoon - is the need to be prepared to experiment with us about how this is going to work. So we spent most of today with them, using their 360 kit - camera, lights, monopod, headset - in our London office working out dummy pictures which we can put into the tool. At times that meant imagining we weren't in a WeWork office but were in the middle of something which would be more like a computer game - some strange looks from other WeWork folk as we walked around holding up pieces of paper with "SCENE 4" written on them - we really wanted to make sure that we could stitch the user journeys together.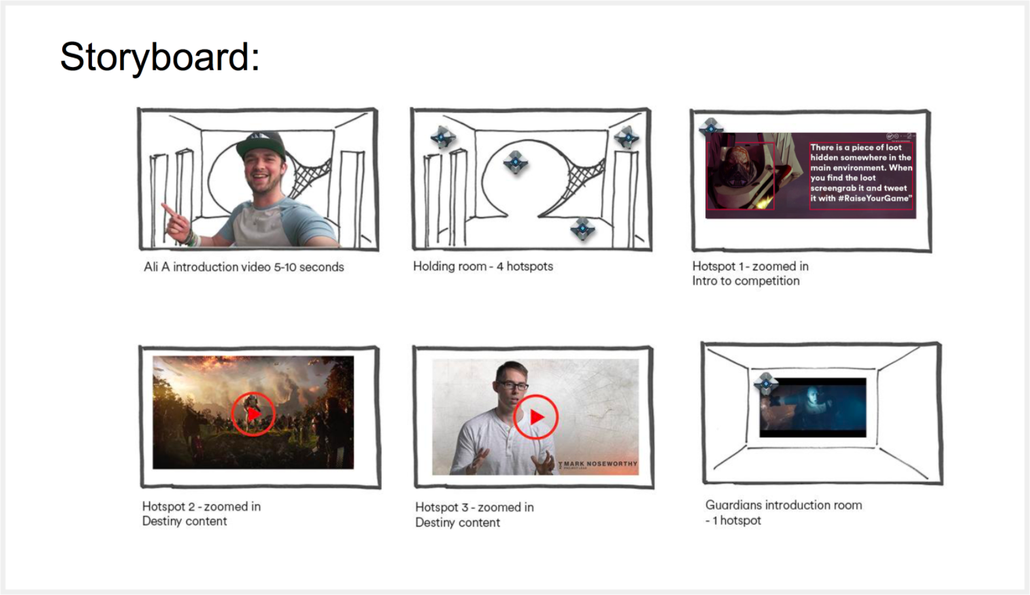 The whole experience was storyboarded - helping us work out what needed to go where
The decision we've made about cameras is really important I think - if only because we're going to be so pushed for time. We're going to be using the Samsung 360 Gear camera, which is run via an app on the Samsung 7 smartphone. This app does the "stitching" for us on the go - i.e. it joins the two halves of the picture together automatically. We'd considered using the GoPro Omni - a rig with six cameras joined together which you need to stitch together in a separate programme. But who has time for that? We need these pictures really quickly and want the simplest solution that we can rely on.
We also decided today on the icons we're going to use - inspired by some in-game artwork used in Destiny 2. One of these is a floating icon - 'Ghost' in Destiny-speak - which will appear in the screens and will trigger some of the interactive elements. It's only an animated GIF but we did wonder if having several of these in each scene might slow down the page load - good news is that it doesn't appear to. We've also adapted a symbol from the game's minimap to give us our "forward" arrow for users to proceed on their route. It looks pretty smart. It's important the users know which icons indicate content, and which show movement - I think we've done that but it's one of the things we'll test in front of a real audience when we go live.
At 5.25 tonight we got the first draft of content for the experience, with some text, some images and an updated layout. One has a gallery of artwork from the game - it was a bit of a shock to read on the plan that the stills photography of those pictures was to be done by Holoscribe on Sunday night. First I'd heard of it - but OK. Can do.
Saturday 15 July
We did some more building of the scenes, using placeholder images where we had to, and worked out how things would work round it. The idea is for YouTuber Ali-A to introduce the experience in video at the start - but we realised having looked at it a few times that there are lots of people who are absolutely dedicated to this game and who we will probably come back lots of times. Seeing the same video intro each time would get old pretty quickly - so we created a new "on boarding" feature that allows the video to be shown on first load, and then a page which allows you to select either Start from the beginning or go in right to the main room each time you return.
Sunday 16 July
5PM:
I've been feeling pretty confident today - especially about how the Holoscribe tool is performing technically - even with our new features and improvements. We have quite a bit of the content built in now. But there are a whole host of unknowns about how this evening is going to pan out - and I know that in the next few hours we're going to put this thing in front of a live audience, so there are a few jitters. But generally I'm optimistic. There are some benefits to being Australian.
11PM:
I rocked up with a developer and photographer at 7pm, hoping we could crack straight on. But it became obvious that things weren't quite ready for us yet. We poked our noses into the venue - what we saw was amazing. The scene-building team had made something which looked like the entrance to a spacecraft. Tunnels, representing Virgin Media cables, were being built, lights put up, an enormous model of "The Traveller" being hung, row upon row of PlayStations being installed etc etc - everyone toiling to create a great gaming atmosphere. But it wasn't finished - there were walls yet to be built. About 30 scene-builders were still hammering and fixing, and the place was crowded with ladders, tools, tins of paint and boxes. It was clearly going to be a while before we could take our pictures, stitch them, process them and put them into Holoscribe. It was going to be a long night.
Stepping into another world - the entrance to the experience (nearly built)
In hindsight though it wasn't really a bad thing - we used the time pretty well, walking through the scenes, taking some dummy images to replace the ones we'd taken in WeWork, and trying to think ourselves into the mind of someone seeing this world online for the first time. Would they make sense of the twists and turns? What was their expectation on clicking, tapping or "gazing" at an arrow at the entrance to a door? Do they expect to stand at that door - as they would if they were looking at Google Streetview? Or do they expect to be right in the middle of the next room? We needed to test all these assumptions out with the real scenery. The rooms were brilliant blue, green, orange and green. But what about dark spots? Thankfully we had a 360 headset with us which was useful to check how things were showing up. We made notes of where we needed to install little cube LEDs to throw extra light on the proceedings.
Thank goodness we decided to go with the Samsung - one of our concerns was how good the photos would look in low light, and even though we had the LED lights on standby, the Gear 360 worked really well. Actually in the circumstances it worked better than some of the other digital cameras we had taken with us. The set-up and processing was so quick it was just what we needed for this job. We had a Ricoh Theta - an entry level standalone 360 camera - as backup, but we didn't need it. One of the criticisms people make of the Samsung phone is that it gets hot when doing this kind of work - and it did, so we did our work in bursts of about 10 minutes at a time.
When it came to looking at the final images we decided not to use the native Samsung stitching process. We wanted slightly higher resolution than it was giving us and we found that it kind of zoomed in to the image. So instead we took the raw files from the SD card in the camera and put them through an online stitching application, then put those files into Adobe Photoshop to reduce the file size. This can cut a file down from 75Mb to about 2.2Mb. Holoscribe does optimisation for device automatically, so that people looking on mobile phones are given smaller file sizes than people on networked Retina screen computers. So I'm going home now, with all our pictures taken. It's late, but the night is not yet over.
Monday 17 July – Launch day
5AM:
I've just spent the last 6 hours (minus a sneaky pint at the pub with Harpoon crew and the train journey home) putting everything in order, labelling the scenes, positioning the icons and marking out on the plan what goes where, hopefully in time for our developers to start work on them when they come into the office. I have no idea how we'd be able to do this in time if it wasn't for our (not-yet-finished) tool. Twenty-two 360 scenes being added together with with 12 content icons playing 4 videos and showing 8 images with text, 40+ navigation icons, background audio … wow. Still, this is only beginning - now I want the tool to do it faster. But not tonight.Time for sleep.
7AM:
That sleep wasn't very long. But I need to get up now to see how the team have done - so far so good. At the very last minute we've had to make a pretty big change in the way images are stored in the browser. It seems that by the time a user gets to the eighth or ninth scene their browser will slow down because it's overloaded with all those previous 360 images. So we had to change the way that all works - risky to do so late, but now the browser is performing MUCH better. Time to deliver a first look to the client. Suddenly I'm nervous.
NOON:
Phew, they loved it - and so does Virgin. Awesome. Still, there was a bit of back and forth between us and RAPP - a few minor changes they wanted and some sensible suggestions. Luckily we could incorporate them easily. But the whole thing went live about 11am - that's when Virgin Media started promoting it on Twitter and through the channels it's set up to reach the gamers who will be most interested in this. Everything seems to have gone pretty well - we're now looking at how many people are using and where they are getting to in the experience. To be fair, early signs are engagement is looking great.
One really gratifying thing is that the talk on social media is about the game itself. The whole idea of this project was to allow people who couldn't be at the launch feel like they were there themselves. They've been waiting for this game for months and this has given them the chance to see what this launch is like. It's good the experience has allowed them to get straight to the content - they feel like they are part of it . We're going to spend the next few hours looking at what they are doing, and learning what we can about how people use these new experiences - so that when we do the next project like this we'll know even more about what's going to work best.